Phonics
What are phonics and why are they important?
Phonics is the word used to describe the sounds the letters make. In simple terms, the word 'cat' can be read from its three sounds: c-a-t.
These are not the names of the letters as we say them in the alphabet, but the sounds these letters make.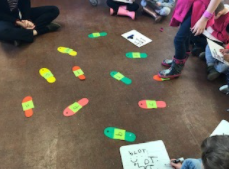 Likewise, the word 'thick' is made up of three sounds: th-i-ck, where pairs of letters combine to make a single sound. Similarly, 'rash' is made up of three sounds: r-a-sh.
Former Ofsted Director, Jim Rose, has said that phonics – where children learn the sounds of all the letters and combinations of letters first – should be taught "first and fast" to young children.
We teach phonics proactively and systematically to children from the age of about five by showing them the sounds of the letters (not the letter names) and how these sounds can be blended to run together to make short words.
Below you will see a short video of one of our teachers delivering a phonics session to our remote learners.
We use a systematic phonics programme called Letters and Sounds.
Letters and Sounds is divided into six phases, with each phase building on the skills and knowledge of previous learning. There are no big leaps in learning. Children have time to practise and rapidly expand their ability to read and spell words. They are also taught to read and spell 'tricky words', which are words with spellings that are unusual or that children have not yet been taught. When they are ready, children progress from books without words to simple stories with words and sounds. Progress from then on is usually rapid!
Please click here to visit the 'Letters and Sounds' website.
We have put together a really useful booklet which gives you lots of suggested activities to help your child with phonics at home. With the increased emphasis on phonics teaching from Government as the vehicle to ensure children are reading by the end of year 1 it is well worth reading and having a go at the activities at home. Click on the link below to download the booklet or ask at the school office for a hard copy if you prefer.
The following are phonics websites where you may find useful information to help support your child's learning:
We've also put together a guide which explains the six stage teaching of Letters and Sounds at Calcot Schools. Please see the attached documents.
Severe Weather Newsletter

Please read our Severe Weather Newsletter for 2019/2020

Read more

Nursery Places Available

We have some spaces available in our Nursery. If you are interested please call the school and we will be happy to help you with your enquiries.

Read more
All latest news