Governors
Do you want to make a difference in your local community?
Then why not become a Parent Governor here at Calcot!
We are a community focused school held in high regard by our families. Our pupils have extremely positive attitudes towards their learning and as Governors we want to make sure our children get the best possible start.
A vacancy has arisen for a Parent Governor on our governing board. We are now inviting any parent or grandparent to consider applying for this position.
This is an elected post, as you will be representing the parents of the school. If there is more than one applicant, a ballot will be put to the parents to elect their chosen candidate.
Becoming a Governor is an ideal opportunity to contribute and ensure our school is delivering good quality education to all our pupils. This also requires a willingness to learn, a commitment to the school's vision and ethos, and regular attendance to meetings to ensure all our pupils receive the best possible educational outcome.
Governors play an essential role in defining and implementing strategy whilst holding the school's leadership to account for its academic and financial performance. There is no job description as such – we work as a team using our skills and experience.
How much of my time will this take?
An important question in our busy lives, as we all want to feel our time is being used effectively. Governors usually average between 10 and 20 days a year, and this increases with higher responsibilities such as being Chair and other key roles. Also it is fairly common for governors to undertake additional volunteering roles such as listening to readers, helping with Forest Schools, accompanying classes on trips, etc.
Initially the term of office is 4 years. Governor induction training and other skills training is offered free of charge. You will be allocated to a specific committee, and currently we have vacancies in the Curriculum Committee. Meetings are held regularly throughout the year, currently online during the day but moving to evenings in school once the COVID crisis has lessened.
Does this sound like something you would like to do?
Download the pdf "What does a Governor do?" to find our further information, or contact the Clerk to the Governors on aelliott@c-inf.w-berks.sch.uk if you have any questions. She can also put you in touch with one of our governors.
Also there are three more vacancies for Co-opted Governor, so if you aren't successful as a Parent Governor, we would gladly welcome you into the Governing Body within this capacity! Or if you can think of someone within the community who might be interested, ask them to visit this page to find out more.
Letters will be going out early in January to invite people to apply for the Parent Governor position, so be ready to look out for it via ParentMail or your child's school bag.
---
In brief, the Governing body have a general responsibility for the management of the school. They support the Executive Headteacher, by acting as a "critical friend".
The Calcot Schools Governing Body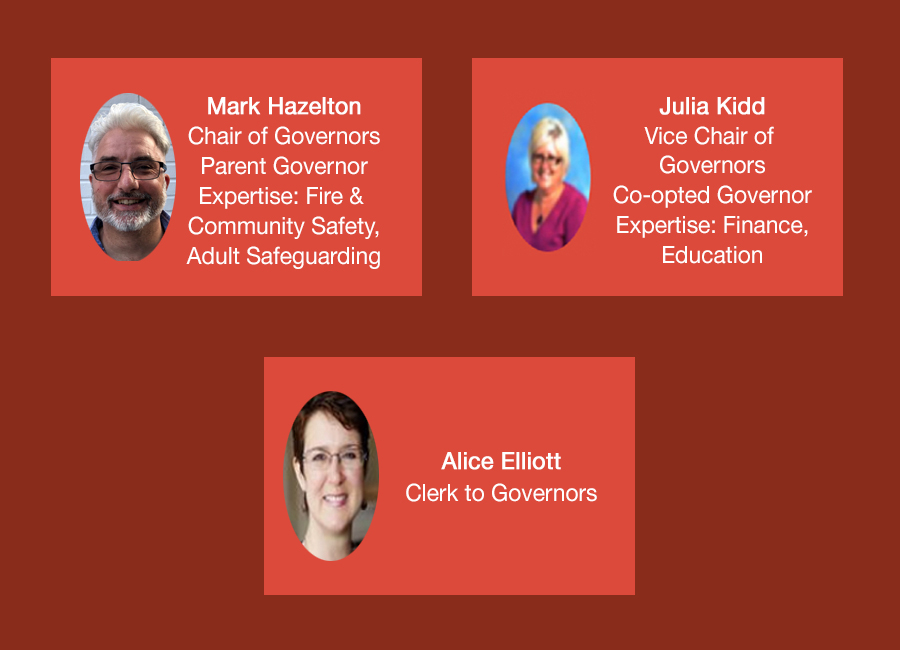 You can contact the Clerk to the Governors via aelliott@c-inf.w-berks.sch.uk
The Executive Headteacher is responsible for the day-to-day running and management of the school, whilst the Governing Body are responsible for:
• Providing a strategic view to assist in the improvement of the school and to raise standards by working in association with the Headteacher and the teaching team – with support, advice and information drawn from the knowledge & experience of the serving governing members

• Providing both a support & challenge role – by monitoring the school's effectiveness and continuing to challenge where required and pressing for ongoing improvements in our performance and standards

• Providing accountability – to the parents and the wider community.

Monitoring budgets and making sure that we are compliant in key areas such as Child Protection and Health and Safety.

Reviewing and updating the many statutory and non-statutory policies which underpin every aspect of school life.
All Governors provide their time on a voluntary basis, and in addition to serving on the Full Governing Body, serve on various other sub-committees which meet regularly. Their membership automatically includes the Headteacher. They are arranged to cover:
Curriculum: monitoring the curriculum and school's performance against key criteria

Finance, Health, Safety and Premises: approving & monitoring the school's budget and Health & Safety

Personnel: monitoring the schools staff and management including recruitment, performance and pay

We always welcome any feedback – positive or otherwise – and are delighted to hear from any parent at any time.
Governor Information
Name of Governor

Role

Term of office

Business

Interests

Experience

Meeting Attendance
(Academic Year

2020-21)

Nicky Bate
(Staff)

Jan 2016-
25/9/24

None

Deputy Headteacher

9

Hugh Baxter

(Co-opted)

Chair of Finance

Numeracy

Sept 2019-

15/9/2023

None

Finance & Banking

11

Katie Dean
(Co-opted)

Chair of
Personnel

March 2011-
25/3/23

None

HR & Commerce

9

Mark Hazelton
(Parent)

Chair of Governors

Health & Safety

Oct 2018-
4/10/2022

None

Health & Safety

Safeguarding

14

Kath Howard
(Co-opted)

Literacy

Feb 2011-
25/3/23

None

Ex-Headteacher

7

Julia Kidd
(Co-opted)

Vice Chair

Early Years

April 2011-
25/3/23

None

School Finance

10

Joe Lally
(Co-opted)

PPG

SEND
Wellbeing

Feb 2018-
5/2/2022

Daughter works in school

Head of Sensory Support Services/SEN/Counsellor
Teaching & Learning

7

Andrew Marsh
(LA)

Safeguarding

Feb 2011-
15/9/2023

None

Finance & Banking

10

Carolyn Purchase
(Co-opted)

Chair of
Curriculum

Outdoor
Learning

Science

Oct 2018-
4/10/2022

None

Ex-Headteacher
Outdoor Learning

4

Florence Rostron
(Headteacher)

Sept 2015-
ex-officio

None

Headteacher

13

Nick Piper

Left on 8/11/21

Oct 2018-
8/11/2021

None

ICT

12

Vacancies:
3 Co-opted
1 Parent
Downloadables
The latest Full Governing Body minutes (other committee minutes are available from the School Office).
The 2017-18 Impact of Governors Work (ongoing record).
The latest Governors' Newsletters.
Severe Weather Newsletter

Please read our Severe Weather Newsletter for 2019/2020

Read more

Nursery Places Available

We have some spaces available in our Nursery. If you are interested please call the school and we will be happy to help you with your enquiries.

Read more
All latest news