Governors
In brief, the Governing body have a general responsibility for the management of the school. They support the Executive Headteacher, by acting as a "critical friend".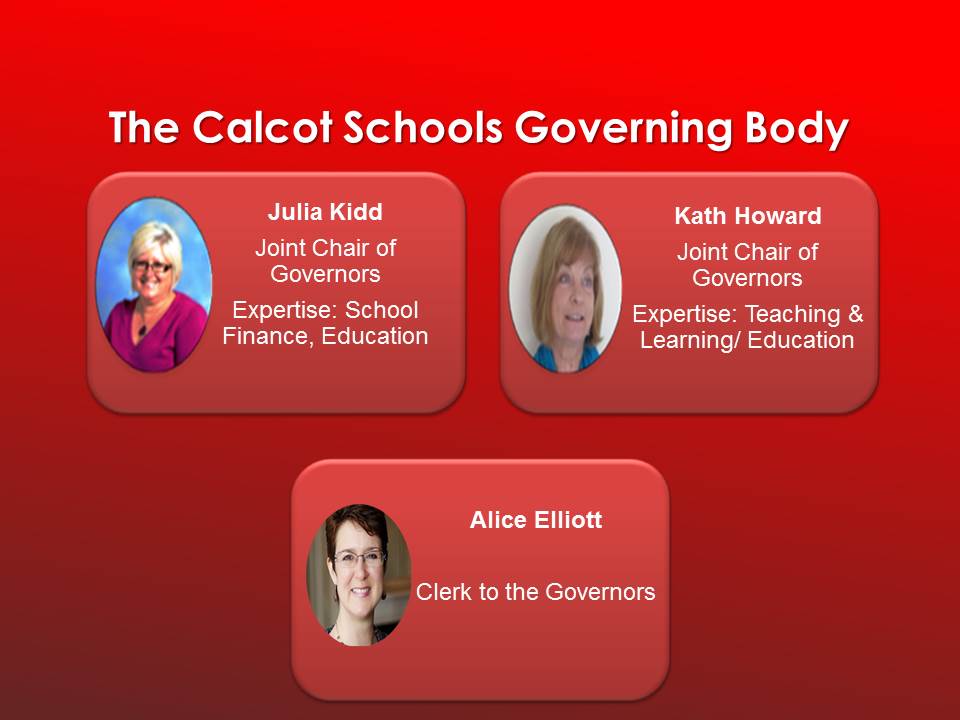 The Executive Headteacher is responsible for the day-to-day running and management of the school, whilst the Governing Body are responsible for:
- Providing a strategic view to assist in the improvement of the school and to raise standards by working in association with the Headteacher and the teaching team – with support, advice and information drawn from the knowledge & experience of the serving governing members
- Providing both a support & challenge role – by monitoring the school's effectiveness and continuing to challenge where required and pressing for ongoing improvements in our performance and standards
- Providing accountability – to the parents and the wider community.
Monitoring budgets and making sure that we are compliant in key areas such as Child Protection and Health and Safety.

Reviewing and updating the many statutory and non-statutory policies which underpin every aspect of school life.
All Governors provide their time on a voluntary basis, and in addition to serving on the Full Governing Body, serve on various other sub-committees which meet regularly to cover:
Curriculum: monitoring the curriculum and school's performance against key criteria

Finance, Health, Safety and Sites: approving & monitoring the school's budget and Health & Safety

Personnel: monitoring the schools staff and management including recruitment, performance and pay

We always welcome any feedback – positive or otherwise – and are delighted to hear from any parent at any time.
Governor Information
Name of Governor

Role

Term of office

Business Interests
and Experience

Attendence
(Academic Year
2016-17)

Nicky Bate
(Staff)

Jan 2016-
12/1/20

None
Deputy Headteacher

18

Tanya Campbell
(Co-opted)

H&S, Early Years

Feb 2011-
16/9/19

None
Health & Safety

9

Paul Bellanti
(Co-opted)

Development

Feb 2011-
20/5/19

None
IT

3

Kath Howard
(Co-opted)

Joint Chair
Chair of
Curriculum
Literacy

Feb 2011-
25/3/19

None
Ex-Headteacher

13

Katie Dean
(Co-opted)

Chair of
Personnel

March 2011-
25/3/19

None
HR

7

Julia Kidd
(Co-opted)

Joint Chair

April 2011-
25/3/19

SBM at Englefield
Primary
School Finance

10

Mary Needham
(Co-opted)

PP

March 2011-
25/3/19

Family Support Worker
at other schools

9

Parent Vacancy

Samir Mahmutovich
(Parent)

Numeracy

May 2015-
13/5/19

None
IT

6

Florence Rostrom
(Headteacher)

Sept 2015-
ex-officio

Headteacher

19

Andrew Marsh
(LA)

Vice Chair
Chair of Finance
Safeguarding

Feb 2011-
8/7/19

None
Finance

10

Joe Lally
(Co-opted)

SEND

Feb 2018-
5/2/2022

None


Anna Peploe
(Co-opted)

Feb 2018-
5/2/2022

None
Downloadables
The latest Full Governing Body minutes (other committee minutes are available from the School Office).
The 2015-16 Impact of Governors Work (ongoing record).
The latest Governors' Newsletter.
Calcot Colour Run

Our very first crazy, colour run took place during the school fayre.

Read more

SCIENCE SUCCESS!

Four of our amazing Year 6 children competed in the AWE Science competition. They battled against 7 other schools and came away as 'The Winners'.

Read more

Choir and Steel Pans at Holybrook

The choir and steelpan orchestra performed at Holybrook Festival on 24th June.

Read more
All latest news