What an end to a season!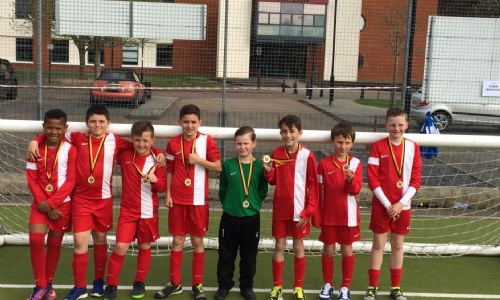 The Year 4-6 boys football team made us all incredibly proud as they competed brilliantly in an end of season tournament.
Runners-up!!
What a way to end the season! The boys played unbelievably well yesterday in a tournament at Trinity School. With 24 schools competing, they won their group which consisted of Sulhamstead, Robert Sandilands and Parsons Down, going on to win a nail biting penalty shoot-out in the quarter finals against Birch Copse and before coming from a goal down to win 2-1 in the semi-final against Francis Bailey. Unfortunately the final was a step too far, losing to Speenhamland. They played some excellent football and it was a pleasure to see a group of children from years 4,5 and 6 playing with confidence. Well done boys, you should be very proud of what you achieved.
Severe Weather Newsletter

Click here for our severe weather newsletter - Calcot Schools will be open unless otherwise notified.

Read more

Anvil Performance

On Tuesday 13th March Calcot Choir took to the stage at the Anvil.

Read more

What an end to a season!

The Year 4-6 boys football team made us all incredibly proud as they competed brilliantly in an end of season tournament.

Read more
All latest news